Course Description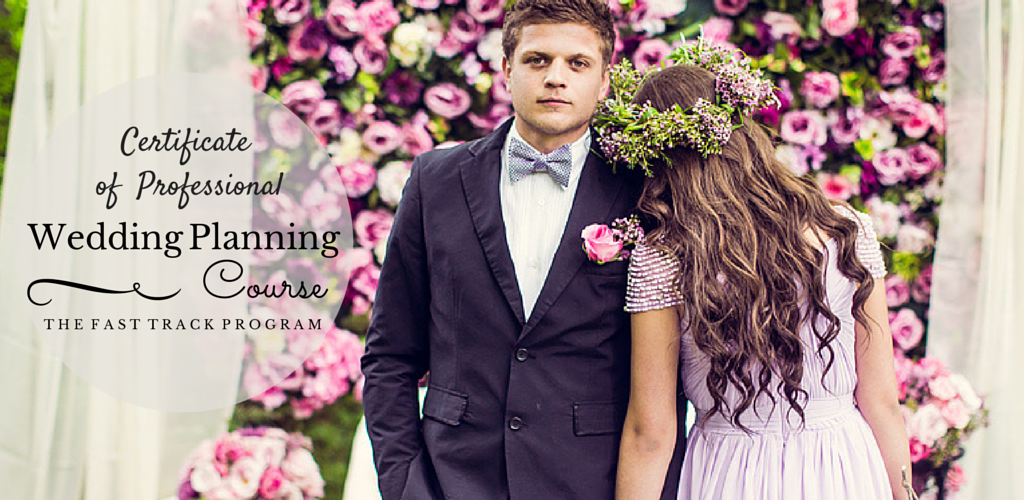 "Discover the Secret to Having Your Dream Job as a Wedding Planner Earning a Successful Living…"
Then you may just have what it takes to Profit from your Passion!
Introducing America's Number One…
Fast Track Certified Wedding Planner Course!
Including FREE Practical Experience!
With 2.5 million weddings occurring each year in the United States, the Wedding Industry is big business; there are now more opportunities to become a wedding planner than ever before.
As a wedding planner, you will take on a range of roles – planner, creator, director, advisor, coordinator and decorator! Your people and organizational skills will be put to good use.

'Imagine Having a Fun, Creative and Exciting Job that Lets You Use Your Creativity to Organize the Happiest Day of People's Lives!'
Our Wedding Planner Success Course is here to help you through the process, by providing a step-by-step guide to getting started and becoming successful in your new career. This course will help you gain the skills, knowledge and confidence you need to oversee all the details of a wedding, and to prepare for a magnificent event!
Your Complete Training in Successful And Profitable Wedding Planning
How You Can Profit From Your Passion and Succeed
The Top Industry SECRETS to Professional Wedding Planning
How to take a Hobby and turn it into a Business!
How to beat the competition and stand out from the crowd
Step by Step process on how to Quit your Day job and Start Your New Career
How to get Wedding Bookings and how much you should charge
Why Many Fail, and how to Avoid Making those costly Mistakes
The current economic market and how  to capitilize
5 Awesome Ideas on how to make money in this industry
Easy STEP by STEP Guide on Preparing a jaw- dropping Weddings
How to get that WOW Factor in your decor and styling!
The Cheats way to Creating Unique Events that STAND OUT and make you PROUD!
Wedding Planning Course USA Duration
This is a Fast-track wedding planner course that is delivered by correspondence. We post the course materials to you anywhere in the United States.  The recommended study time per week is 2-3 hours. So this means you can study at home, in your own time.  It is up to you how quickly you would like to complete the course.  The maximum duration is twelve months.  The shortest duration is 12 weeks.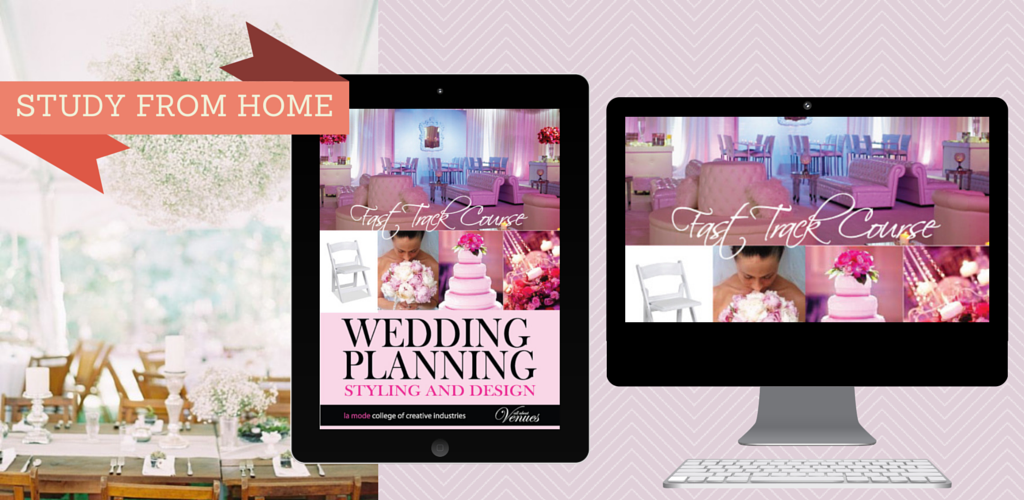 What Your Complete Wedding Planner Course- Success Kit Includes…
1. A4 Ring Binder and Full Colour Wedding Planner Manual
2.  Wedding Planner Templates and Checklists  containing:
 Floor plans, Action lists,  Checklists,Invoices, Quotes and Timeline Management

 Downloadable Forms

 Style Guides
3. Ongoing phone support and consultation with a student course advisor.
4. Online Tutorials with helpful resources, downloadable style guides and 'how to' styling projects!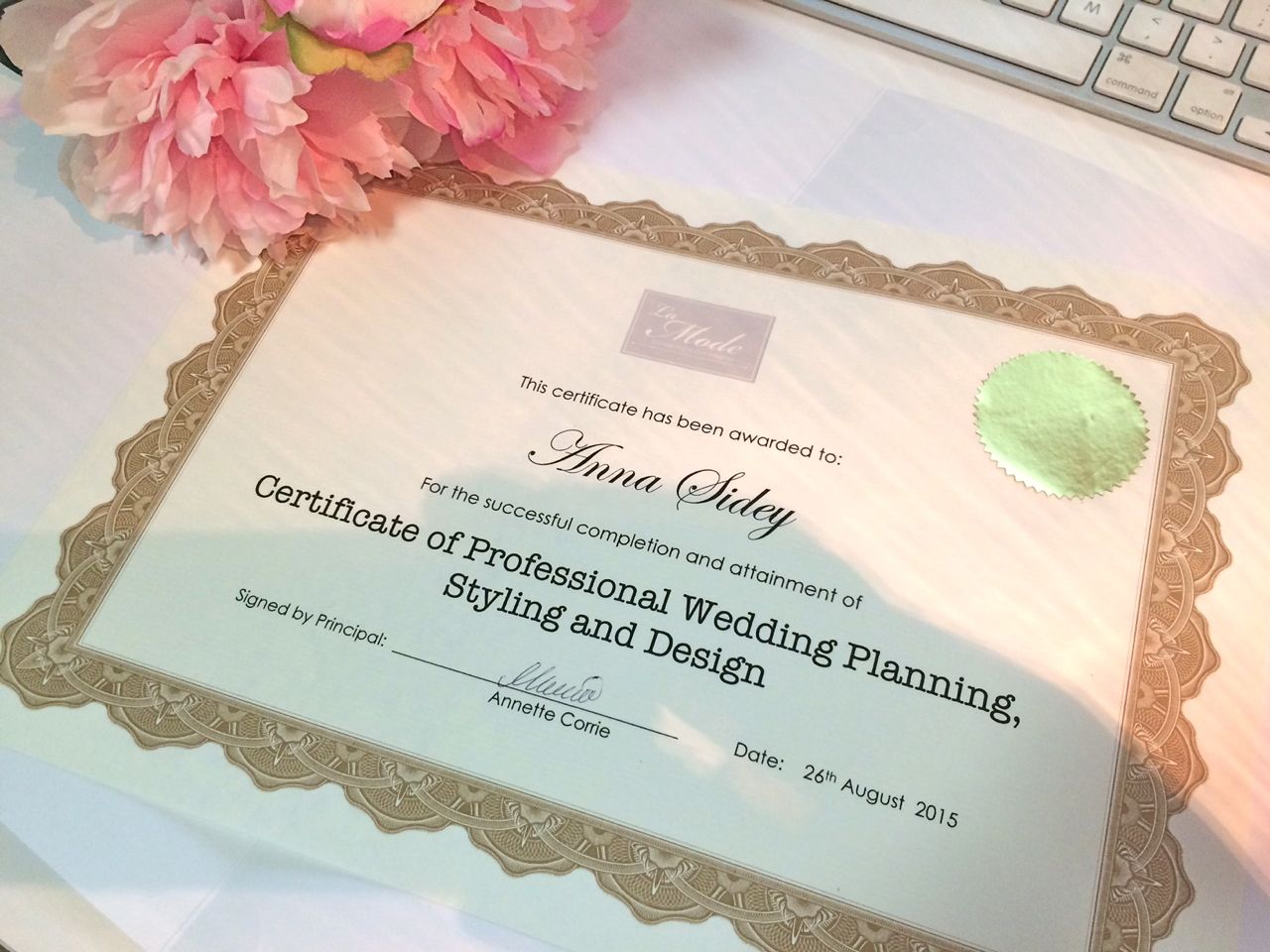 Do What You Love – Love What You Do!
Course Duration:         By Correspondence: 12 weeks up to 12 months
Course Delivery:          Online (includes Course Manual &)
Qualification:                Certified Wedding Planner

Wedding Planner Course Overview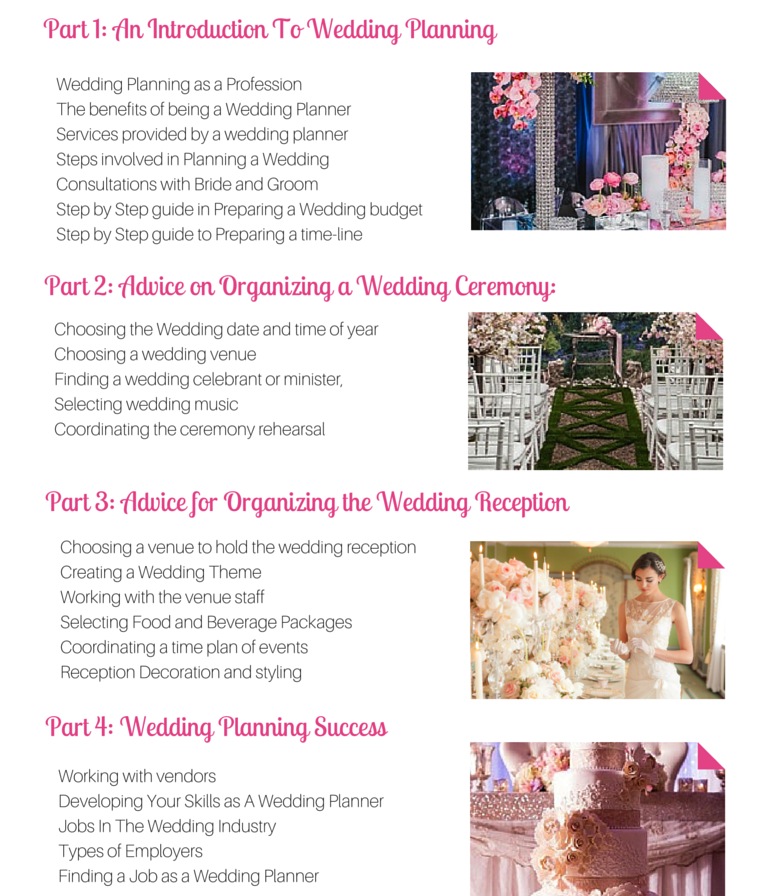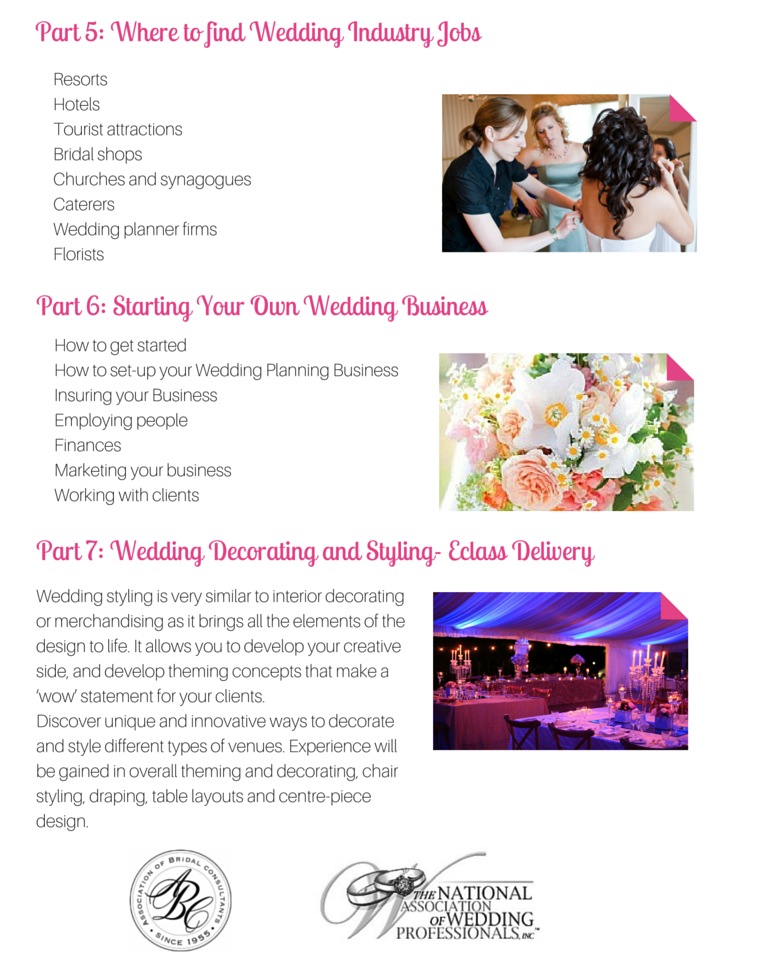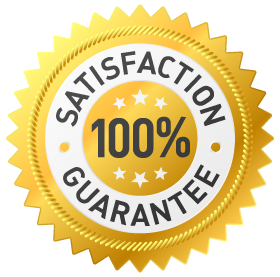 Testimonials  
Certified Wedding Planner Fast Track Course  
Was: $997.00 : NOW ONLY $697!
( THIS MONTH ONLY: SO HURRY!!)
Stop Dreaming and Start Earning Now!  
Phone- 619-888-9485
Student Testimonials